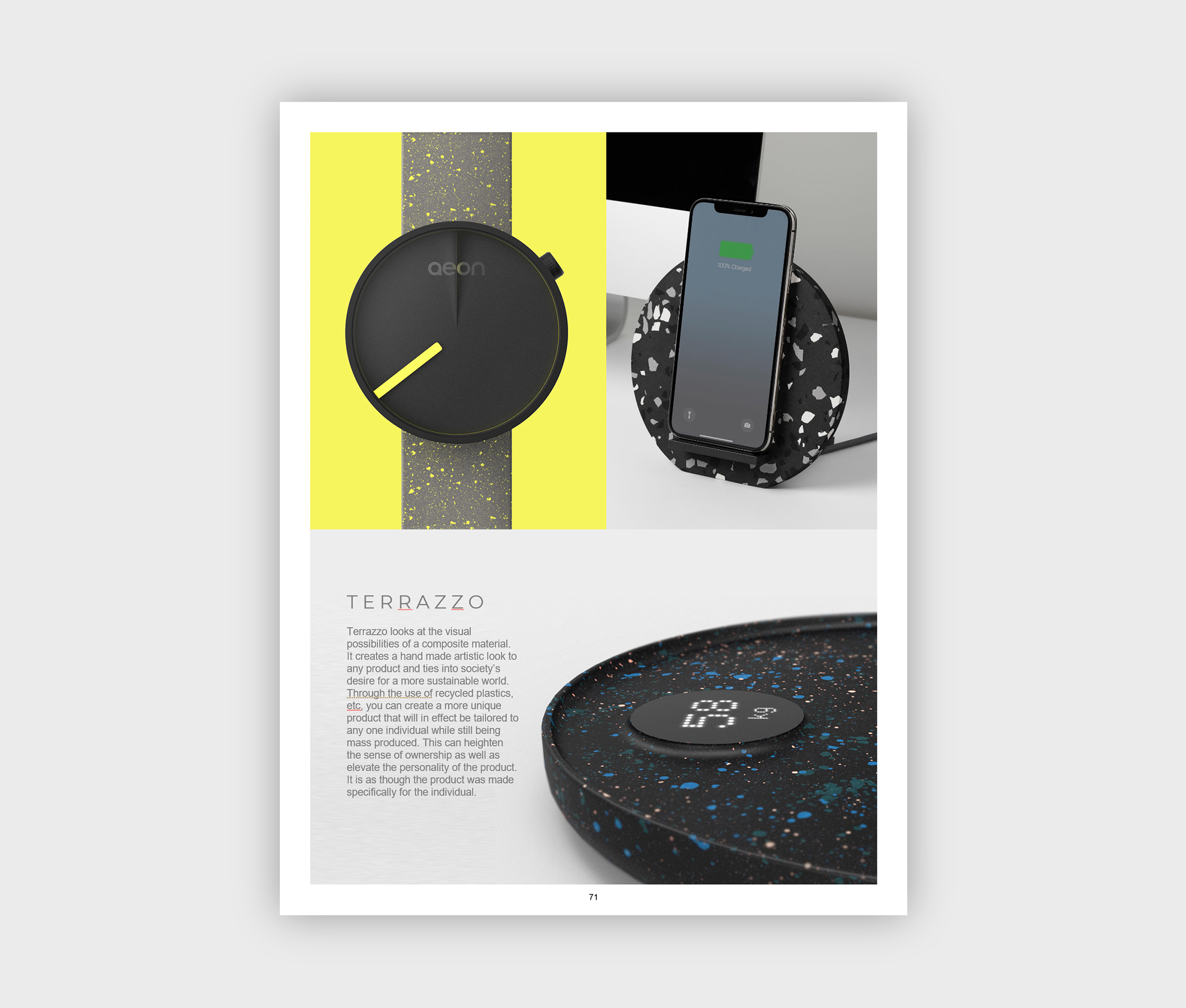 We hope that you are staying safe, healthy, and at home.
In the midst of these uncertain times it is good to have a little bit of distraction once in awhile. And we wanted to share a page from our trend report this year. It is one of our favorite at the moment, underutilized trends, the terrazzo/speckled effect.
You are really seeing the heavy integration of the terrazzo/speckled effect in architecture/home interiors right now. The incorporation of stones and tiles with the colorful fragments creates an engaging texture in modern minimal environments without the complexity of intricate shapes. We have yet to see heavy integration into consumer electronics, although the interest seems to be picking up pace. The trend is being used most notable in architecture but also throughout fashion and consumer goods.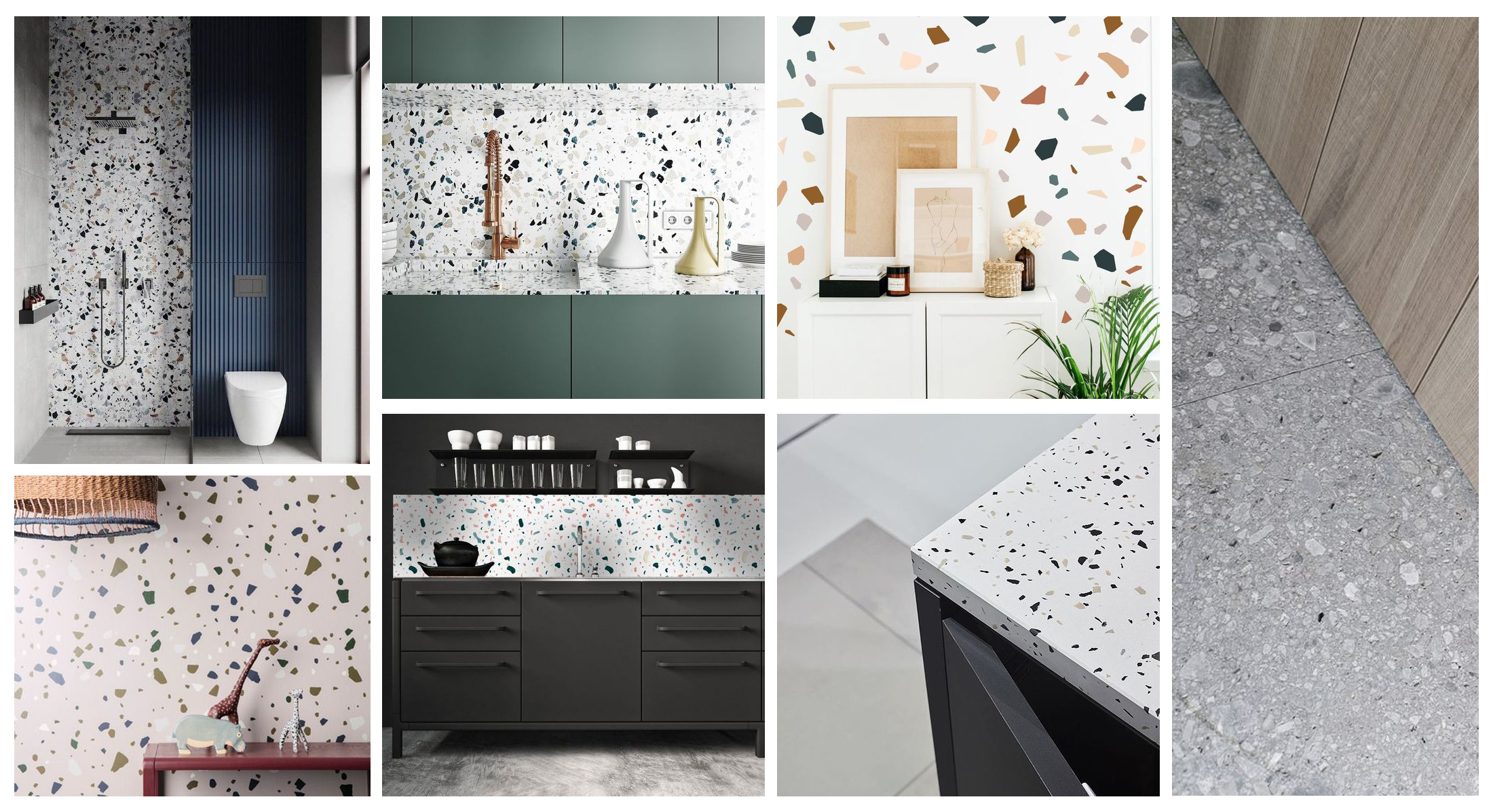 "But it was off the floor where terrazzo spread most notably. Terrazzo-print items appeared in big box stores and boutiques, amongst tastemakers and trend-followers. The Wing released a line of terrazzo-print swag last summer. Seemingly in a rush to get their own terrazzo-themed products online, Target has it spelled two ways. Even the retailers less susceptible to trends bought in. In a show of restrained enthusiasm, Crate and Barrel put the print on disposable paper plates, napkins, and straws. But most other major retailers put greater stock in terrazzo's appeal and stocked their stores accordingly. As furniture and decor, it's available at West Elm andCB2, Urban Outfitters and Anthropologie."
Vogue magazine
https://www.vogue.com/article/how-terrazzo-moved-out-from-under-our-feet-to-absolutely-everywhere
The terrazzo/speckled effect looks at the visual possibilities of composite materials. It gives visual texture to any product without the complexity of intricate shapes and physical patterns. It can instantly make a simple shape more dynamic and engaging. Speckled fragments of colors and shapes intertwine to give every piece its own personal characteristics.  It creates a handmade artistic look because the speckled pattern is unique to every product.
Terrazzo/speckled effect lends itself to a more modern aesthetic that adds a visual texture to more minimalist forms/products. The trick is being able to balance color, texture, shape when applying this trend so as to remain modern and relevant. Let the variation of speckles create a harmonious balance between the patterns, colors, and shape of a product. When done right, it is an interesting and dynamic pop, but if used incorrectly it has the potential to become overbearing and dated. Even the scale of the speckles and colors is important to the context of the product.
This trend ties into society's desire for a more sustainable world through the use of recycled plastics. It is the process of recovering scrap or waste plastic and reprocessing the material into useful products. The trend creates a more unique product that will in effect be tailored to any one individual while still being mass produced. This can heighten the sense of ownership as well as elevate the personality of the product. It is as though the product was made specifically for the individual buying it.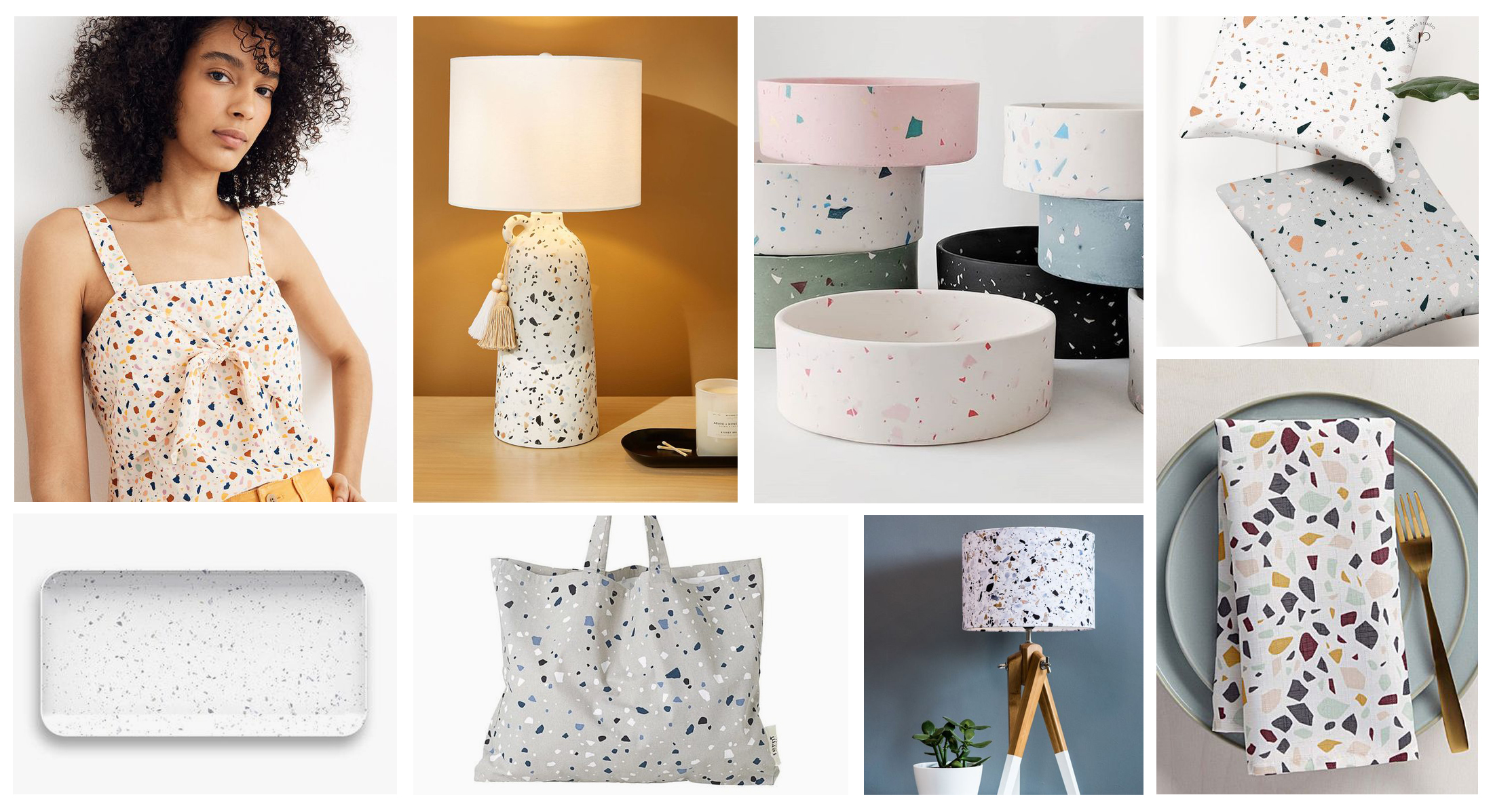 "When asked about the recent rise of terrazzo, Farnham cited the return of Memphis and "a decade or so of Scandi-inspired everything" leaving consumers hungry for more playfulness in their interiors. "It's like confetti for adults," jewelry designer Katie Glenn says about everyone's favorite new material."
Vogue
https://www.vogue.com/article/how-terrazzo-moved-out-from-under-our-feet-to-absolutely-everywhere
This trend tends to be polarizing, and it's use is contingent on who you are as a brand, how you use it, and what it's use is meant to represent. Authenticity is important . Remaining relevant as a brand means understanding where markets are heading and then pointing your brand in that direction. And that means innovating through technology, form, color, function, and features. Taking a bold stance validated by market research anchors you in the mind of the consumer. But first you have to understand who you are as a brand and how you want to be represented.
Read more about this trend and others in our free trend report. You can download it free when signing up for our newsletter at the bottom of the page.